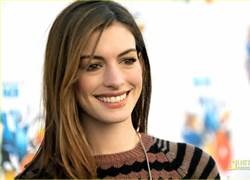 Anne Hathaway
(born November 12, 1982) is an American actress.
After several stage roles, she appeared in the 1999 television series Get Real and played Mia Thermopolis in The Princess Diaries movies.
Hathaway is an Emmy Award-winning actress for her voice-over performance on The Simpsons.
Hathaway had dramatic roles in Havoc and Brokeback Mountain in 2005. She starred in The Devil Wears Prada (2006) and in Becoming Jane (2007) as Jane Austen.
In 2008, she won awards and was nominated for the Academy Award for Best Actress for her lead role in Rachel Getting Married. In 2010, she starred in the box office hits Valentine's Day, Tim Burton's Alice in Wonderland, and Love and Other Drugs.
In 2011, she play the voice of Melissa "Jewel" Miller in the animated movie Rio and play Selina Kyle in The Dark Knight Rises.
People magazine named her one of its breakthrough stars of 2001 and she appeared on its list of the world's 50 Most Beautiful People in 2006.
In the future, she'll play Selena Miller/Voorhees (Someday) in The Future of Freddy vs Jason.