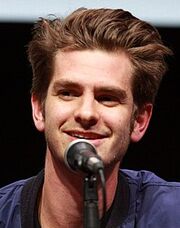 Jason Krueger is the husband of Michelle Myers/Krueger, the father of Kathraine, Angel and Jason Jr. Krueger and the son of Freddy and Stephaine Krueger. He had a sister, Miley Krueger/Voorhees and he's played by Andrew Garfield.
His personal
He's nice, brave, friendly, smart and great fighter.
His life
He was born in Springwood, Ohio with his parents: Freddy and Stephanie. When he was 5 years old, he and his younger sister, Miley saw their babysitter was killed by George Wiegert. As years passed, he grow up and had a great life until George came back.
Before George came back, he was in love with Michelle Myers (the daughter of Michael and Heather Myers) and had the courage to ask her out.
Jason's love life
He wasn't into love at first until he met Michelle Myers at Springwood High School and became friends. But, deep in his heart, he was in love with her and get really nervous when he's around her.
Before the event of George and his gang vs Freddy and his gang, Jason want to ask Michelle to go out with him. So, he did and Michelle says yes. During the movie, Jason and Michelle were seen, dancing each other.
As years passed, they love each other even though they have good and bad days until one day, Jason ask Michelle to marry him and Michelle says yes.
His future
He's married to Michelle Myers/Krueger and had 3 kids: Katharine, Angel and Jason Jr. Krueger. They lived at Springwood where Jason's family lives.
Gallery