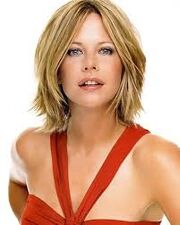 Stephanie Cyrus, now Stephanie Krueger, is the wife of a serial killer, Freddy Krueger, the mother of Miley and Jason Krueger and the daughter of Eddie and Miley Brock/Cyrus.
She's played by Meg Ryan and it's her first time to be in a horror movie.
Her personal
She's very beautiful, smart, kind and lovely woman. She may be beautiful like her mom, but she's tough like her dad and her husband.
Her life
She was born at New York City until she moved to Springwood with her parents.
When she was 15 years old, she met Freddy at Springwood High School. She know that she was in love with him and so did freddy.
In 1970, she and freddy were married after graduation. In 1975, they had 2 kids: Miley and Jason Krueger. What she doesn't know that the people of Springwood kill her husband with fire.
After her husband's death, she was worried and scared. She need know why they kill Freddy.
After 10 years, she was a reporter and an widow mother. When she fell asleep, she also had a nightmare like everybody else.
What she didn't know that it was her husband who's burned now with claws. Once she found out, she tell her husband why he lied to her and kills kids in the past.
Then, Freddy told her that he had no choice and was sorry. So, Stephanie forgive him and also know that she love him, no matter what.
Her Future
She still married to Freddy and trying her best to make sure that Freddy retired of killing.
Gallery